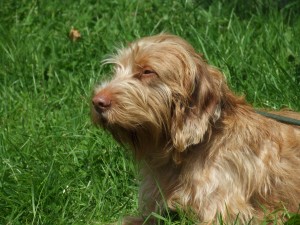 I was born in England, county Durham, together with 9 brothers and sisters. I didn't like it when my new mum arrived to collect me at first but soon realized she meant no harm. Then when we got home I met the rest of my family and Jess, the flatcoated retriever whom I became best friends with. I didn't like meeting new people at all! That's one of the reasons mum took me to obedience classes… I needed to get socialized she said, so I would gain more confidence. I loved it, specially meeting all the dogs. We "sailed" through basic obedience and then we discovered agility.
Now I think I like that more because it is full of action, great fun! But don't give me too much repetition and mum gets it wrong a lot and then I get bored quickly and distracted … wandering off in the world of scent … I'm after all a gun dog you know.
We also tried fly ball and I really enjoyed the training because it is all about the ball but mum thinks that I don't have enough drive for it … she could be right. Perhaps best of all I like chasing squirrels and scenting other animals in the woods with my best pal Jess. Shes a bit older but shes steady as a rock.