Hi there, my name is Caragh or Borderbrook Rihanna if you want to give me my posh name.
I went to live with my mum and dad (Margaret & Steve) when I was just 8 weeks old.  I was a bit nervous on the way to their house.  I was in a car for a few hours and dad's driving was a bit erratic to say the least, during the trip.
When we arrived at my new home, there was this lump of a dog already in the house.  Now I know I was young but I thought "OH MY GOD, do I need to share my new family with this nutter"!!!!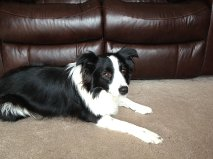 Mum was good and put me in a play pen till "the nutter "and I got used to each other. I have to say after about an hour we were lying side by side really contented.  We have never looked back, Jake (that's the nutter) is my best friend.  I have learned a lot from him, but not in the way you think. Whatever Jake does, I do the opposite!!!!!  This usually keeps a smile on mum's face.  I have seen her when dad makes her angry and I don't want to be in the firing line for that!!!!!
I started going to obedience training as soon as I could leave the house. Oh I do like it and I have made lots of new friends there.  Skye is my favourite friend from my classes; mum gets a bit cross when Skye and I get a wee bit too excited.   I am now in the advanced class and Alison has us doing all sorts of things.  The latest was sniffing things out with my nose……  loved it!!!!  You would think that was why I had one!!!!
I thought I was doing OK at obedience till mum entered me into a SKC heat last week, well…..what can I say? Mum was rubbish….turning this way and that but no-where close to what the man was asking us to do. Team work eh? Once I got to do stuff on my own I made up some points, stays and recall were in my opinion quite good so we ended up 4th overall and I got a nice wee rosette for my troubles.
Mum says she has entered me into a couple of big competitions later in the year but I think dad's going to go in the ring with me as mums heart can't take the strain, least I might have a chance with dad. I'll let you know how I get on.
I've finished my flyball beginners course and I've met a lovely girl called Megan, she is running me in the YKC (Young Kennel Club) trials, Megan's great, we get on really well and we make a great team….you listening mum????? WE MAKE A GOOD TEAM !!!! Hopefully all going well we're going to get to run at some qualifiers for Cruft's next year, not sure what Crufts is but I've heard the grown ups talking about it and it sounds like a good thing and I hope you'll all come and support Megan, me and the rest of the Team.
Remember my big brother Jake? He's just as daft as ever, he's doing really well at flyball though but I'm catching him slowly, so you'd better watch your place in the big team!!
On the home front life was all very quiet for Jake and I, lovely walks over the park or on the beach, lazing on the sofa, but on Sunday the peace and tranquillity changed for ever, Ziggy! A 12 week old puppy arrived. Mum says that Ziggy is my sister, but she looks nothing like me, she looks like she's been plugged into the electric socket…… she's funny though and we do play, Jake's not that bothered about her, think he's jealous that I don't play so much with him but its all the girls together now……..he he!
I'll see you all soon at either obedience or flyball and I'll introduce you all to my wee sister once she's big enough to come out and play.
Caragh.