Hi everyone, my name is Cruz (Cruz Missile is my KC name and everyone who knows me will agree that my mum certainly picked well when she chose that one!)
I am almost 3 years old (birthday is 02 Feb if anyone wants to buy me anything… squeaky toy or squeaky ball or squeaky anything really!) but you would never know it… I am still a baby mum says and I don't think she believes I will ever become a sensible adult dog ha!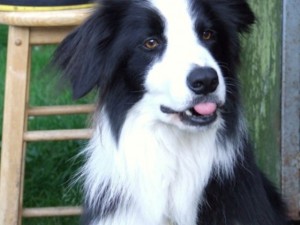 I live with mum, dad and my sister Fly, who is nearly 10 now, and my brother Scout, who will be 7 in May, we are all collies. When I was old enough, Mum started taking me to agility classes…wow, did I love them! I started competing at real KC agility shows last year and I had to start in Grade 3 because my smartass brother had won Grade 1 and Grade 2 and my Mum isn't allowed to enter a dog below Grade 3 now…:( Maybe this year I might get a clear round – as so far the course I take doesn't agree with the one mum wants me to do. I think that's what is causing the problem, she wants to follow all the little numbers in the right order….but I must be doing something right, as the others in the queue smile when I run and I also give the judges a laugh…
I started flyball last year and just love it, mum lets me run by myself over the jumps and as long as I bring her the ball and come back over the jumps, she is really pleased with me :o) (hhmmm…wish she would let me run the agility course on my own!)
I haven't been doing flyball very long, but I am hoping to be in a team this year and maybe even run in a Crufts qualifier, keep your fingers crossed for me……..
Luv Cruz