Hi I'm Jake or to give you my Sunday name 'Miraje Jacobean Rebel'. I'm 19months old (September '11) and my mum and dad Margaret & Steve love me loads and both take me on lovely long walks in the park.
As a puppy mum says I was a complete and utter nutter and very hard work? But I like to think I was just a typical collie puppy.
Dad started obedience training with me from an early age but although I knew what to do he insisted in working me morning, noon and night, he even had me in the park in the snow last winter making me sit/stay while he ran round me like an idiot. Not sure what all that was about?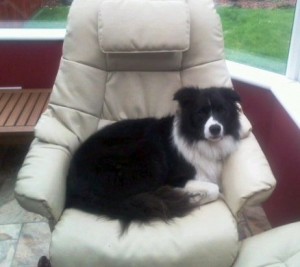 I was entered into a competition in June and I think I let dad down cause I broke my sit and lost points, but I made up for it the next time so in the end he seemed very happy with me and I even got a rosette.
I do like obedience, but I also like showing off to my pals at the club and that annoys dad….hee hee!
I did my agility beginners course earlier this year, Wow! That is excellent fun, running, jumping, tunnels and weave poles, oh I love the weave poles, only problem is dad is so slow and he keeps sending me the wrong way….idiot! Uncle Joe keeps telling him to stop racing me, I mean have you seen his flabby belly there is no way dad will ever win against me!
Once dad gets a bit fitter and learns his left from his right I think I may be quite good at agility.
Lately mum has started taking me to flyball….not sure why it's called flyball as I haven't seen any balls yet. I mean I love tennis balls and take one with me on every walk, but this is just running and jumping then turning on a box…..but its great fun and mum also gets very excited too.
I have a wee sister now too, Caragh. She's great but she keeps stealing my ball when we're out walking. One of these days I'm going to have to have a word. She doesn't get to play as much as me but she has started coming to obedience and she's a class swat, I think she wants to be teachers pet. Caragh thinks she's so good but mum lets her down, mums not as good at obedience as dad.
If you see me about come and say hello as I love making new friends but I warn you, don't jump the queue at agility, that really winds me up….!
Bye for now,
Jake.