My sister's Labrador Holly was a real family dog – my daughter Sarah adored her, my father walked her when my sister was working, my mother spoiled her and I was always happy to look after her when needed. So when she passed, we all felt a terrible loss. You can never replace the dog that you have so many fond memories of, but after a while we decided to rescue a dog and that is how we came to visit Dogs Trust in Uddingston.
Sarah is very soft-hearted where animals are concerned and I was worried that if there was a one-eyed, 3-legged scrap of a dog in the kennels – then that was who would be coming home with us and actually, Joe was the only dog shaved and stitched ! He'd tried to escape under a fence and ripped his side.  He was an unwanted puppy with Dogs Trust who had got re-homed and then he was brought back at about 6-7 months because he was left home during the day and was 'destructive'. When we got him he was just under a year old.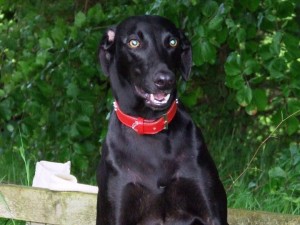 He came with the name Joe and we decided not to change it as he knew it and I think it suits him. He is not a fat greyhound – he's a Lurcher cross and we think there may have been a Doberman involved as his coat is not typical Lurcher and he has mad ears. He is a very, very soppy dog and just loves attention.
He was quite nervous when we got him and we decided to take him to puppy & beginner Obedience classes which at that time were in the Greyhound Stadium in Ayr. He soon settled into it and let's just say we've had "mixed results" at Obedience shows but we'll keep trying!  We also do agility.
I can't praise Dogs Trust enough for their fantastic work, organisation and support. Joe and the family will be doing the "Waggy Walk" in Tollcross Park in October again this year to support this great cause.