My name is Kodie; I'm one year old,
The most handsome lad I'm regularly told,
I am very clever; pick things up quick,
Collecting mail for my Mum; that's a new trick.
xxx
I do howl a lot before going for a walk,
Have no patience at all (she knows I can't talk),
A lovable rogue; that's me at my best,
And other days; put Mum to the test.
xxx
Don't like my own company; come out here and play,
The garden's all holes and the plants they won't stay,
Use charm and good looks to get my own way,
It works every time; as sure as its day.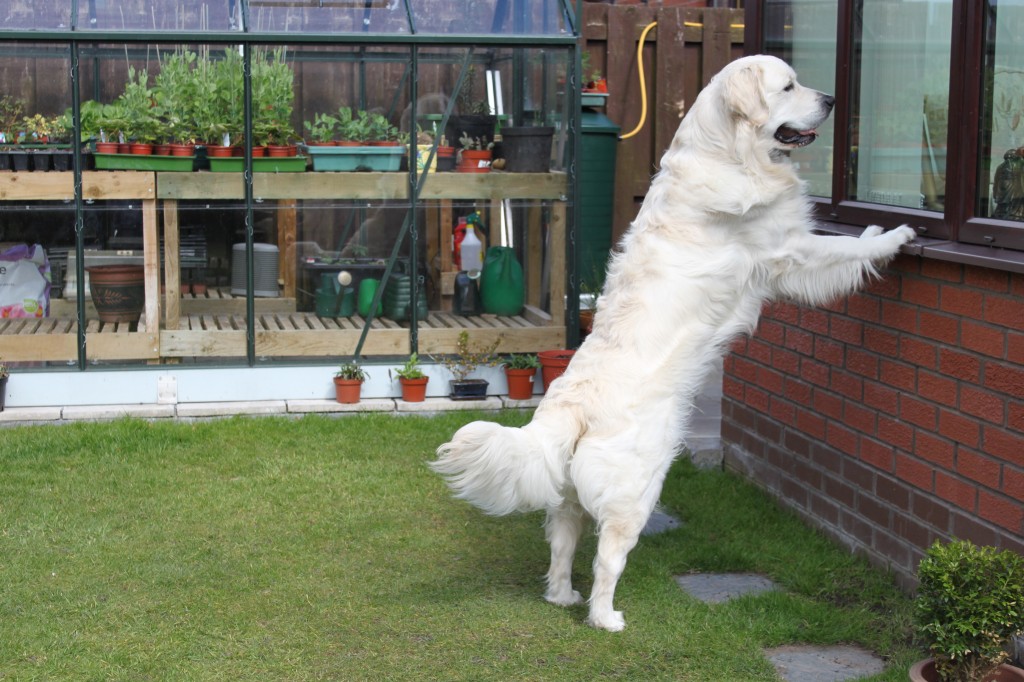 I am a Golden Retriever, although actually cream in colour, and left my family when I was eight weeks old to live in Ayr with my new Mum and Dad.
Boy was I a shock for them!  From the beginning I took control, had them around my little 'claw' as they say, although for some reason they insisted I go outside for the toilet which, after a few days, agreed to do.  Still, I got up early every morning for months demanding to get out and then play which they did not seem to appreciate.
I have never been destructive around the house choosing instead to 'remodel' the garden with many holes, fewer plants and feature bite marks in the fence.  I have loads of soft toys and greet everybody with the current 'teddy' in my mouth to play with them.
I love getting brushed and jump straight onto the garden bench as soon as the brush comes out, so I leave lots of hairs around the house to make sure I get brushed every day.
I love going for walks to meet new pals around the park and now expect my regular biscuit when I call for the morning paper at the shop.
Things changed in August last year when I was taken to a big hall for what my Mum and Dad called 'training'.  I thought it was great to meet other dogs and could not understand being told to walk beside my Dad.  I have learnt a lot over the last few months but really enjoy the recall when I have the opportunity for an impulsive 'tour' of the hall to meet my pals.
I decided to behave myself at April's SKC Beginners Obedience Heat and could see the shock on Mum and Dad's faces when I came first.  Never mind, I will make up for that in future weeks and show them who is really in charge!
I hear all the other dogs barking about something called 'agility' and 'flyball' but; since I really am agile enough; and don't fancy flying; have decided to stay with what my Dad calls 'obedience'.  You never know; he might get it right eventually!