My name is Missy (KC name Missy Blue Eye) – I am a Border Collie and I will be the good age of 12 this August. I was born at home with another 5 brothers and sisters, but when I was 8 weeks old, they all started to go and live with new families, but I stayed at home in Kilmarnock. My mum, Alison, said I was special and that is how I got my name Missy as she was going to miss me if I went away to another family. I live at home with Mum Alison, Dad Joe, Zoe, Jamie and another four collies called Taz, Cy, Ice and Silva.
My mum took me to puppy classes where I met lots of other dogs and made some lifelong friends. I had great fun learning lots of things that seemed to make my mum really happy and I was good enough to compete at obedience shows. They were great fun, I could show off all the things I'd learned in class…and I even got lots of big colourful rosettes.
When I was about a year old, I started Agility. It was a bit scary at first… some of the things were really high and there was this dark thing called a tunnel. But with lots of encouragement from mum and the trainers, I overcame my fears and just had the best fun ever. When I was good enough, mum started to take me to agility shows, and because I was so clever at all the equipment, I won lots of pretty rosettes and even some trophies! Mum says I'm really good at agility, and I am in grade 4 now with my brother Taz.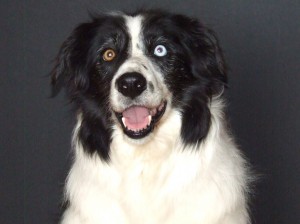 I can also do flyball – that's where I have to jump over 4 little jumps, touch a pad and WOW… I get a tennis ball (which is one of my favourite toys) – flyball is great fun, me and all the other dogs bark and bark and I run really fast… it's a great feeling! I have been to Crufts dog show 4 times now – it is very busy with lots of really strange looking dogs everywhere. Mum has bought me lots of stuff at Crufts including a really cool jacket because she says I am a good girl… I love being told that.
I'm retired now from competition, mum thinks I'm getting on a bit (she doesn't know everything as I could still give lots of dogs a run for their money!) but I still go to Obedience classes every week, just to show all the other dogs how its done. I love my daily walks with my Gran, Cy, Ice and Silva (Taz doesn't go a walk now, he's even older than me!) and I play with my ball through the day when mum and dad are at work.
All of us dogs live in kennels in the back garden through the day, which is great, but my best time is at night when I get to come inside to play with the toys and then go to sleep in the old boy Taz's bed. Most of all I just love to look at my Dad and put on those big puppy eyes of mine and then jump into his lap for a big cuddle!!