Name: Murphy aka 'handsome' or on a bad day 'wee jobby'
KC name: Hound of the Sea – which is Gaelic for Murphy – ironic as I hate the sea.
Age: approx 6 year old
Breed: Tri coloured collie
Likes: food, treats, dinnertime, sleeping
Dislikes: the sea, budgies, hoovers and Cass
Lives:  lived with Claire and Raymond in Troon for last 3 years.  Prior to that the Lanark area.
So Murphy, tell us about your life prior to moving to Troon…..
I started off life in Lanark but what happens in Lanark stays in Lanark.  Although I will tell you that on one of my last days in Lanark I was wandering the streets minding my own business when I was dognapped – in broad daylight!  I was kept hostage by an outfit who call themselves the SSPCA – Ooooo some of the things they did to me – cut off my rope necklace, bathed me with shampoooooooooo, cut matts out of my hair, stuck needles in me and I cant bring myself to tell you which other parts they cut off but I'll never be the same dog again! Ouch!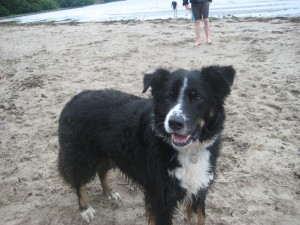 How did you end up in Troon?
A couple you may know as Claire and Raymond agreed to pay my ransom and whisked me away to an unknown location.  I was to live in a thing called a house where humans stare at a black mirror in the corner of the living room laughing and shouting.  What's so funny uh?  I got used to this cushy lifestyle pretty quickly.
Although one day I wasn't feeling too hot and was taken to the vets as one side of my face had drooped.  The vet said I had Bells Palsy and put me on steroids. I'm ok now but sometimes you may notice I have a wonky lopsided face, more so when I'm tired.  Doesn't bother me, apparently it adds to my cuteness.
Have you had any training?
Not long after I moved in with Claire and Raymond I started obedience classes – OMG scary!  How could anyone walk on that slidey wooden floor? And all those yappy dogs – ooooo my ears.  I just hid under a chair hoping it would all go away.  But no I got dragged out to join the class doing follow the leader round and round the room but I'm no fool and I conquered that floor – I slid along on my belly for the full class.  Genius.  I kept getting taken back to class and eventually I mastered that god damn floor.  I progressed quickly through the obedience classes and have even done a few shows and won rosettes.  My best was at the Scottish Kennel Club show at Ingliston – I was on fire and got a second in pre-beginners.
Any other achievements?
One of my other proudest moments was getting the Dog of the Year Trophy from the Dog Club for my progress in obedience – get me!
What are your hobbies?
Agility – I started agility about 18 months ago.  Claire has me doing all sorts of obstacles and I am just waiting on her making me jump through hoops of fire next.  I am enjoying it and get annoyed at Claire when she doesn't give me clear enough instructions so I bark at her.  I also sometimes bark going round a course just 'cause I'm having fun.
How would you describe your personality?
I'm quite a laid back collie who prefers his own company, although agility is apparently making me act more like a true collie.
What are your plans for the future?
I'm just starting to compete in agility so it looks like a summer full of shows.  Need to raise my game as there's a new youngster in town – Cass…..mmmph!  She's another one who was taken hostage by an Irish mob this time – wish they had blooming well kept her hostage – pest that she is.  Not so sure about the obedience side of things – Claire says she wants to submit a home video entry for shows as we are perfect at home but put a ring around us and it all goes to pot!!
If you see me say hello and most importantly give me treats – just ignore that Cass.
Murphy